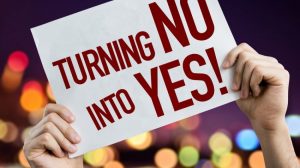 To achieve sales success its about being consistent and repeating what gets you results.
In sales, everyday is different, but there are a few things you can be certain off.
Customers will not always return your call.
Customers will ghost you.
Customers will brush you off.
Customers will challenge your pricing.
Customers sometimes are afraid to change or move.
How many times have you heard any of the following?
"Just email me some information."
"We're happy with who we're using."
"We aren't interested at the moment."
"I'll have to check with my boss."
"That's a bit more than we want to spend."
"It's just not the right time for us."
"Let me think about it and get back to you."
"Our budget is gone"
"Can you email me more information?"
My guess is, you probably heard a number of these over time.
This is actually where it gets exciting and the fact that you have heard these numerous times is great news.
Why?
Because in sales we tend to hear the same objections, which means we can prepare.
Sales is about consistency and repeating what works.
Some suggestions to help you to overcome objections.
Lean on the talent of your whole team, ( sales and non sales ) divide out the most common objections you have heard and involve everyone in crafting out the best responses.
Who in your company consistently performs and achieves target every month?
Tap into what they are doing and get them to share how they approach objections with everyone.
If you are part of a network, ask people that you know and trust to brainstorm ideas with you. You can be sure they are in the same boat, so it could be a win – win for everyone.
Approach objections with a different mindset, treat them as a request for more information, welcome them rather than fear them.
Ask questions to fully understand what the customer is really saying.
Rehearse and practice and get some feedback.